Svenska (English below):
Kungliga Operan
sätter nu upp
'Rucklarens väg'
av
Igor Stravinskij
.
Uppsättningen har 32 år på nacken och den sattes i denna version och vid det tillfället upp i
Glyndebourne
vid operahuset där .
Regissören heter
John Cox
. Scenografin är gjord av en ung
David Hockney
.
Har i radions Kulturnytt av
Per Feltzin
erhållit god kritik. Har inte sett den och ej läst andra recensioner.
På Operan sattes
1961
en legendarisk version upp av denna opera. Regin stod
Ingmar Bergman
för. Den uppsättningen gjordes tio år efter urpremiären på detta operaverk.
The Glyndbourne production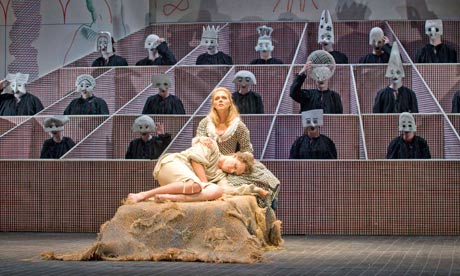 English:


The Opera in Stockholm gave this opera in 1961 in a famous production directed by
Ingmar Bergman
. That was ten years after the first ever performance.










(Photo Igor Stravinsky copied from: http://img1.loadtr.com/b-404979-Igor_Stravinsky.jpg
(Photo 'The Rake's Progress' taken from the Glyndebourne performance and copied from: http://www.blogger.com/post-edit.g?blogID=24999135&postID=6124241672865584262