Between the

17th

and

24th of August

we are visiting the Norwegian town

Haugesund

for the above film festival. Aurore visited this festival in 2000, during which she saw 63 films in 10 days.
We'll see how many films we will be able to see this time. Aurore probably more than me as she has got a press ackreditation, giving her a chance to see films before they are released publically - on the condition that she does not write about them on her blog dedicated to Scandinavian film.
Eldfjall/Volcano
As being one of the - maximum - 5 most knowledgable about Scandinavian film in her generation, her blog -

www.cineaster.net

- is one of the best if you want to learn something about this subject. It's written in French but even if you don't understand the language, there are many trailers to look at and I think you will be able to appreciate and learn a lot about Scandinavian film anyways.
She writes about both older and recent films in order to

explore

and

explain

the development within the film making in "the North".
You will be able to follow her during her time in Haugesund and if the technology works, she will be broadcasting direct from the

Amanda Awards

the 20th, Saturday.
Hodejegerne
Oslo 31. August
Pushwagner
Sons of Norway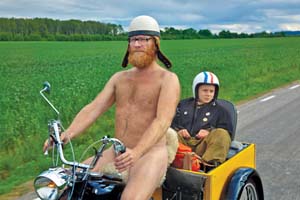 (The poster copied from: https://en.unifrance.org/festivals-and-markets/869/haugesund-international-film-festival/2011)
(Photo from the film 'Eldfjall'/'Volcaono' copied from: http://3.bp.blogspot.com/-D0ea2yfpUbg/TkERo8LwCcI/AAAAAAAAAi8/Xmpe0SL8jtY/s1600/Screen%2Bshot%2B2011-08-09%2Bat%2B10.52.36.png)
(Photo 2 from 'Eldfjall'/'Volcano' copied from: http://www.cineaster.net/wp-content/uploads/eldfjall_2.jpg)
(Photo 'Hodejegerne'/'Headhunters' copied from: http://oslopuls.aftenposten.no/multimedia/archive/00083/_hodejegerne_jpg_83936d.jpg)(Photo from the film 'Oslo 31. August' copied from: http://images.screenrush.co.uk/r_760_x/medias/nmedia/18/84/09/80/19725959.jpg)
(Poster with Pushwagner copied from: http://www.cineaster.net/wp-content/uploads/Pushwagner1.jpg)
(Photo from the film 'Sons of Norway' copied from: http://images1.variety.com/graphics/photos/WebImages/newsnor101.jpg)